The moment a dog is overlooked again at a shelter is breaking hearts.
Elias is a 6-year-old Siberian Husky who was brought to the Rancho Cucamonga Animal Center in Rancho Cucamonga, California, as a stray in August 2023.
"He is in good health and has observed no medical concerns," Deputy Director of Animal Services Heather Bolton told Newsweek. "In true husky fashion, Elias is an independent dog, that allows all handling, but is generally not overly interested in those around him."
In a video shared on Reddit, Elias was filmed in his kennel as visitors walked past, glancing at his cage before moving onto the next.
Each year, 6.3 million pets are surrendered to U.S. shelters, which is an average of 17,260 a day, according to the American Society for the Prevention of Cruelty to Animals.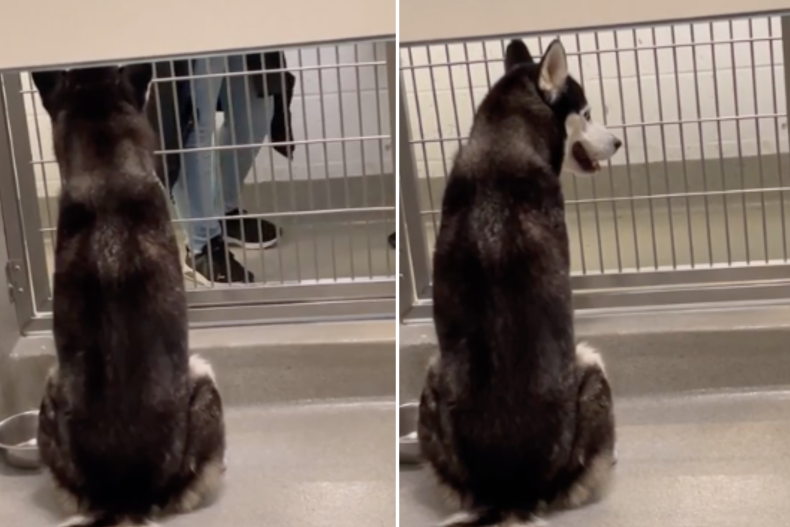 The number of dogs and cats taken in by pet shelters hit 46,807 during January 2023, an increase of 1,744 compared with January 2022, the 24Pet 'Shelter Watch Report' found. Around 920,000 surrendered animals are euthanized every year. Shelters are striving to minimize euthanasia rates by promoting adoption campaigns, spaying and neutering programs, and behavior rehabilitation.
The heartbreaking footage sparked conversation online. Posted on Reddit, the dog was dubbed "unnoticed, forgotten." Users shared their reactions to seeing Elias sitting and waiting for someone to notice him.
"How sad to see this from their perspective. Damn, that really hit me," said RegretNecessary21.
While Starr-Bugg wrote: "Oh poor sweetheart. I'm so sorry."
"Such a beautiful boy. Someone please adopt him," said yarn612, and Reddit user Glittering_Ad8641 wrote: "Damn, now I'm weeping! We don't deserve dogs and dogs don't deserve this!"
The Rancho Cucamonga Animal Center is an open admission municipal animal shelter that serves the City of Rancho Cucamonga, meaning they accept animals in all health conditions and of all temperaments.
Providing sheltering, pet adoption, microchipping, licensing, rabies control and much more to the community, the shelter currently has many dogs and cats waiting for homes.
"It's hard to say just why he and many of the dogs in our Animal Center are overlooked," said Bolton. "It may be because he is one of 13 husky or husky mix dogs we have at the Center. It could be due to his age, as the older dogs and cats are often more challenging to find homes for. It could be that he is a very independent dog, and many adopters are looking to make more of a connection with their adopted pet."
She explained that the shelter currently has many other animals who have been waiting months longer than Elias who have also been overlooked.
But they still have hope that the perfect home for Elias is out there. Bolton said: "Elias' perfect home is one that is willing to let him be the independent dog he is, and not expect that he will become more outgoing or interested in them, and a home that is willing to give an older dog a chance at a new life."
Do you have funny and adorable videos or pictures of your pet you want to share? Send them to [email protected] with some details about your best friend and they could appear in our Pet of the Week lineup.
link