A pet owner is beginning to suspect that the pit bull terrier he adopted from an animal shelter is an altogether different breed of dog.
In a video that has amassed over 3.4 million views on TikTok, user @kapp_the_franchise456 accused the unnamed shelter of misleading him on what breed his new rescue dog, Sissy, really is.
"You get the dog from the pound. They swear it's what they say it is," he says in the video, showing his two dogs lounging on the floor in front of a couch. "This is not no g****** pit bull terrier."
He points to his other dog, who he calls a "full-blown pit," who clearly has different features than those of his new four-legged friend. Sissy certainly seems bigger than her owner's other dog shown in the clip and has a decidedly different facial structure.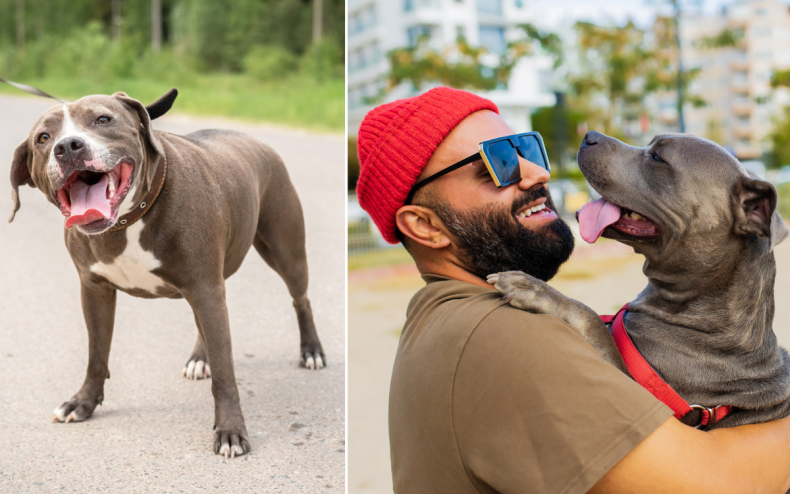 Sissy appears to actually be a mixed-breed dog. But while he's not overly happy at being misled about the breed of his new canine, he would not be alone in owning a mixed breed.
According to statistics compiled as part of the 2021-2022 American Pet Products Association National Pet Owners Survey, 54 percent of all dogs kept as pets in the United States are mixed breeds.
In any case, the dog owner seems to have made peace with the idea and, instead, is now eager to find out more about his pet's background.
"Do dogs have ancestry websites? I gotta get to the bottom of this," he wrote alongside the clip. Plenty of those watching on social media had their own theories.
"Think it's a staffy mix," one wrote, in reference to the popular Staffordshire bull terrier breed of dog. Another viewer thought Sissy looked more like a "Jack Russell Terrier mixed with something." One commenter said he looked "like almost a boxer."
Others who claimed to have experience working or volunteering at animal shelters said staff often hedge their bets when it comes to identifying breeds.
"When I worked at a shelter they would label almost all the dogs a terrier. There are 32 different kinds of terriers," one commenter wrote. Another person who said they worked at a shelter revealed that "everyone just took a guess on paperwork."
But while there was speculation over Sissy's breed, most commenting on the clip thought it didn't really matter all that much.
"Purebred 'goodest boy' that's what he is," one viewer wrote, with another agreeing: "I don't know [what breed he is] but he's cute and you better love him."
Newsweek reached out to kapp_the_franchise456 via TikTok for comment.
Do you have funny and adorable videos or pictures of your pet you want to share? Send them to [email protected] with some details about your best friend and they could appear in our Pet of the Week lineup.
link