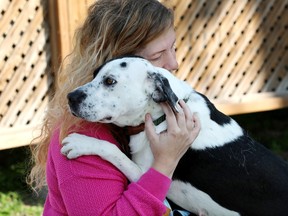 Article content
Edmonton's Animal Care and Control Centre isn't accepting healthy dogs as the number of abandoned animals at shelters and rescues across the province reaches a critical limit.
John Wilson, animal care and park rangers director, told reporters Tuesday the centre has been operating for 30 years but has never seen such a dramatic demand for care.
Article content
"I'm a little bit saddened that we are where we are. It's a very difficult place for anybody who has compassion and empathy for the animals in our community to find ourselves in this place where so many animals are being abandoned, or being surrendered," Wilson said.
Article content
The move is temporary for the city-funded facility, which is giving priority to dogs that are injured or in "significant distress" until there is more kennel space. Others will be put on a waiting list.
It comes after animal rescues in Edmonton have been raising the alarm over the rise in abandoned pets, in part because of inflation and a lack of accessible pet-friendly housing.
Wilson said people don't often volunteer why they give up their pets but "financial factors are definitely a part of that equation." At the same time, many animals adopted during the COVID-19 pandemic may have presented unanticipated behavioural problems or health problems.
'We miss home': More than 4,000 NWT wildfire evacuees at Edmonton EXPO Centre

Edmonton animal rescues see alarming rise in cat abandonments
The centre sees between 6,000 and 7,000 animals each year but only has space at one time for 47 dogs. Normally, animals stay for between three and 10 days but now stress on the system has turned the average stay into four to six weeks.
Staff from the centre have also been offering pet daycare for thousands of people displaced by wildfires in the Northwest Territories at the Edmonton Expo Centre. It's the third time this summer they've been called in to support evacuees, Wilson said.
Article content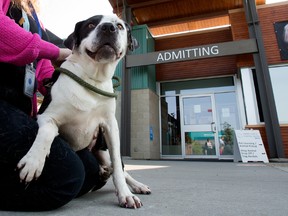 The latest city budget saw the Animal Care and Control Centre get a $3.3-million increase.
On Tuesday, Wilson called that boost a "godsend" that has allowed for the hiring of more kennel care and veterinary staff.
"It's not just about kennel space. It's also about staffing levels, training, it's about the condition of the animals when they come into us, the duration of their stay — there's a lot of factors," he said.
City budget documents from December noted the sheer volume of animals, from birds to reptiles, has created "challenges in providing the legislated standard of care" under Alberta's Animal Protection Act.
"The City of Edmonton continues to incur reputational and legislative risk because the capacity to maintain animals in an environment free from distress is inadequate," the document states.
Wilson said Tuesday that is no longer the case, and the centre is currently not euthanizing healthy animals due to space constraints.
"Now, that is not what we're doing, and the reason we're here today is to ask the community for its help in dealing with this community issue," he said.
Article content
Some advocates have already called for a mandatory spay and neuter bylaw in Edmonton, a possibility that could come to council after public consultations this fall to update its more than 20-year-old animal licensing and control laws.
Wilson encouraged Edmontonians to continue helping lost dogs reunite with their owners using the city's lost and found pet page, by bringing animals to a vet to check for a microchip, or reaching out through social media and neighbourhood networks.
He emphasized the importance of educating people on pet ownership and the resources available to help them, including financial support for vet care and pet food banks around the city.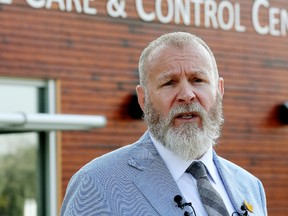 link