The Dublin Society for Prevention of Cruelty to Animals (DSPCA) recently shared on social media that a Staffordshire bull terrier in the charity's care has spent over 250 nights in the shelter.
The animal rescue organization took to Facebook to share that "clever boy" Domino had been sleeping in the shelter's kennels for almost an entire year, and was met with an outpouring of sympathy from internet users.
"Domino the 2-year-old Staffy came into the DSPCA from Dublin County Dog Shelter," Gillian Bird, an employee at the DSPCA, told Newsweek.
"Sadly, his owner could no longer look after him."
"Domino is the smartest boy in our shelter and he has the biggest and best smile and he's just so much fun to be around! He's goofy, giddy and playful and always makes us laugh, it's what we love about him," Bird added.
The shelter had shared in the emotional Facebook post that went on to tug at the heartstrings of thousands that Domino is "putting on a brave face" and "hasn't stopped smiling" despite his misfortune. Staff members at the DSPCA and internet users moved by the post are united in their desire for a loving owner to take Domino in.
"Tonight Domino will spend his 252nd sleep in the shelter," the Facebook post read.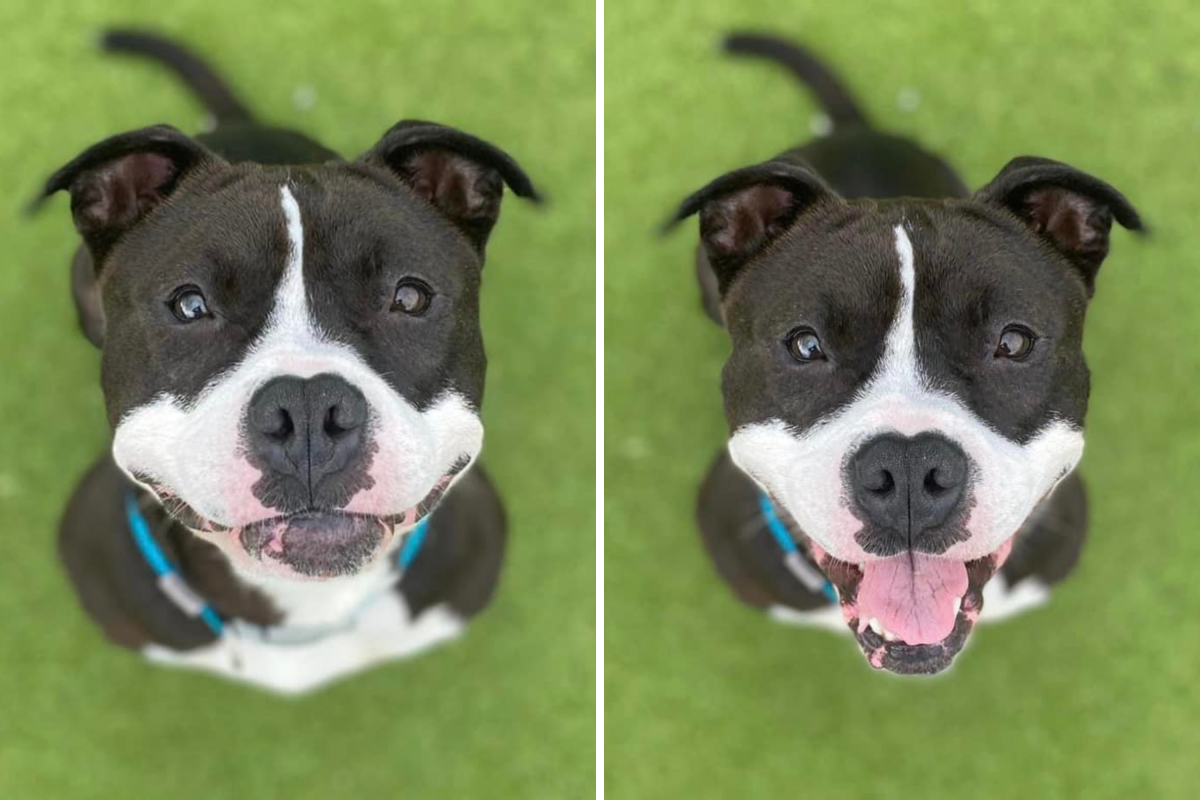 It added that Domino "gets very down some days."
The Staffy was described as being "easy to walk", "great in the car", and as the giver of "the best cuddles.
The post continued: "Domino loves to cuddle up with you after his exercise so be ready for lots of Staffy cuddles and kisses."
The DSPCA say that Domino is a dog who's "great in the house" as he loves company more than anything else. He's also described as being able to cohabit with a female dog and with children over the age of 14.
The DSPCA is Ireland's oldest and largest animal rescue shelter. Its mission is to rehabilitate and rehome cats, dogs and other animals. While staff members are racing to find a new home for Domino, it's clear that he's in safe hands at the moment.
What Do the Comments Say?
Since it was shared to the social media platform on November 7 by the DSPCA's official Facebook profile, the post has been liked by over 1,700 users and shared more than 900 times. Internet users appear keen to spread the message about Domino, and help the shelter in its hunt for a suitable new home.
One user commented: "He is a gorgeous boy, Staffies are incredible loving pets."
"Oh, that's a shame, he's gorgeous," another user added.
A third user wrote: "Oh my, the most beautiful smile."
The Facebook post can be seen here.
Do you have funny and adorable videos or pictures of your pet you want to share? Send them to [email protected] with some details about your best friend and they could appear in our Pet of the Week lineup.
Uncommon Knowledge
Newsweek is committed to challenging conventional wisdom and finding connections in the search for common ground.
Newsweek is committed to challenging conventional wisdom and finding connections in the search for common ground.
link